Rachel Broomfield, the SPAB's Places of Worship Casework Officer, provides some invaluable advice on rainwater goods maintenance.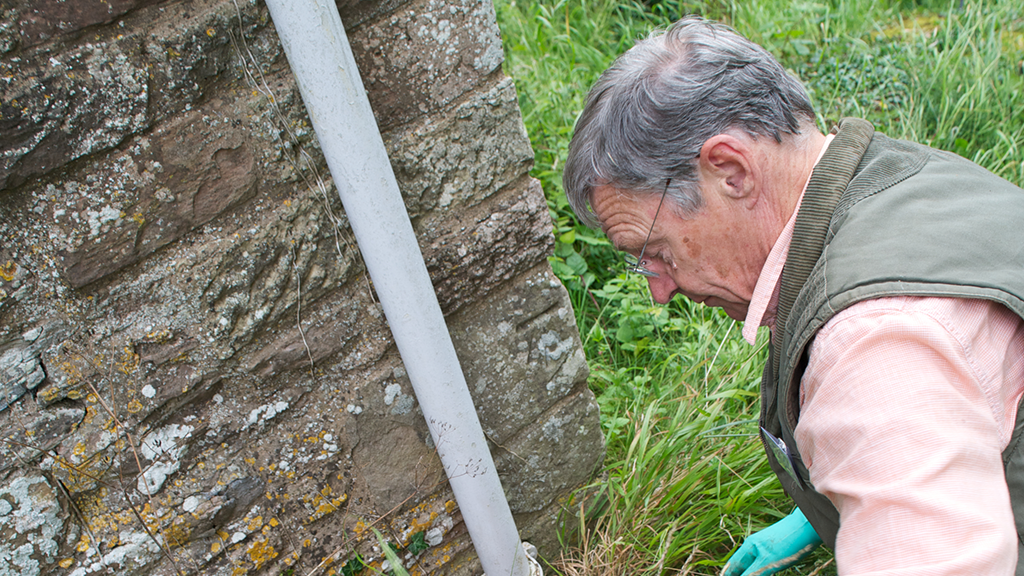 These are some of simplest but most effective jobs that can be done as they require very little specialist equipment, and yet if undertaken regularly, they can save the parish a fortune in repairs. However, as with any maintenance work, always ensure that several people are present on site to hold ladders steady, and follow all health and safety guidance.
Clearing rainwater goods
Gutters, hopper and downpipes can easily become blocked with fallen leaves, sticks and weeds through the year, particularly during the autumn. It is also not unheard of for birds to choose wide gutters to nest in and once abandoned, whole nests can wash along and block outlets preventing rainwater from clearing.  Cracks and splits in gutters, downpipes and hoppers can be caused by wear and tear, movement or by water freezing during very cold spells, and these can also cause problems.
If the rainwater goods become blocked or broken the water will overflow, running down the side of the building, or in the case of parapet gutters, it can back up and run over the top of the wall, saturating the eaves. Over time this can lead to the walls and roof timbers becoming saturated, plaster and paintings deteriorating, woodwork going mouldy and in the worst cases rot / insect attack can set in. The whole church will feel cold and damp, and these significant problems, which could easily have been avoided, will cost a great deal of money to rectify.
Point 1
Rainwater goods and their associated lead work should ideally be checked once a year for cracks, splits, holes, signs of water running down the walls (look for damp patches / green staining), missing / loose brackets and vegetation growth. It is best to do this on a wet day if possible as any leaks will be more obvious. Small repairs / replacement sections of gutter can be sorted out quickly before they cause a problem, and as they are relatively minor, the costs will be minimal. 
Point 2
As well as this visual inspection, the rainwater goods should be accessed via ladders or a cherry picker, (being aware of health and safety at all times), and all debris cleared out carefully to allow the rainwater to flow freely. Once cleared, it is worth using a bucket / hose / watering can to pour some water through to check everything is clear. In areas where there are large numbers of trees or where access is difficult, consideration can be given to covering open gutters and hoppers with chicken wire to allow the water through but to keep most of the leaves out.
Point 3
It is also important to look at the drains at ground level to see if the water is draining away. If they are blocked by leaves / rubbish / vegetation they will also need to be cleared. If the downpipe does not go all the way down into the drain, water can splash up making the base of the church walls wet. This can be a particular problem where there is no drain and water discharges into a gulley, so these also need to be cleared of leaves, grass and weeds regularly if they are to work properly and take the water away from the building.  
Removing vegetation
It is easy to remove small weeds from rainwater goods which are usually just seedlings blown in by the wind. However, when much heavier vegetation has taken hold within the stonework such as ivy, buddleia or valerian this will require a little more effort to eradicate it. Large expanses of vegetation should be carefully checked for bird's nests before any removal is attempted. The most important thing is not to just try and pull it off the walls / gutters as it will take the mortar out of the joints leaving you with re-pointing to do as well.
Point 1
If possible cut the plants off at their base right through all stems. The plants (both the main part and the base) should then be sprayed with a suitable weed killer (on a dry calm day following all health and safety instructions), and then be left to go brown and die off on their own. If the plant has waxy leaves like valerian, a small amount of washing up liquid added to the weed killer will allow it to stick to the leaves rather than simply running off. It will take a few weeks for the plants to go brown and die off and they may require a further application of weed killer especially if the weather has been wet. Although it will not look attractive as it goes brown, please leave it alone.
Point 2
Once it has completely died off it will have loosened its grip on the building and it can then be gently pulled off without disturbing the mortar joints. Large areas of ivy may actually come off in one go. It is then important to get the area of stonework that has been uncovered checked and re-pointed in lime mortar if necessary to stop water getting in through the voids the plant has made. These areas in particular should be carefully monitored so that if any vegetation starts to grow back, it can be tackled straightaway before it can take hold.       
Point 3
Where weeds have become very large it may be necessary to seek specialist help / advice as the stems may need to be injected with a stronger weed killer. In the most serious cases, sections of walls may need to be carefully dismantled, the roots removed, and the wall rebuilt to prevent it coming back and to stabilise the structure.